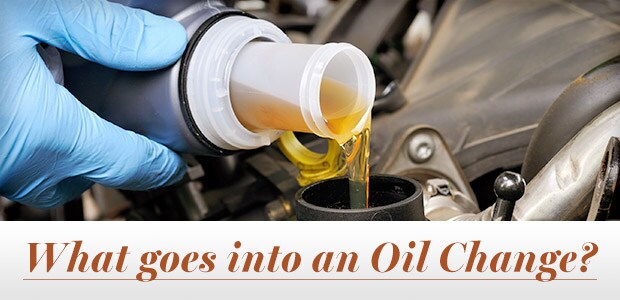 Oil changes are something that people have to do on a regular basis. It's a part of routine maintenance, and often vehicles will require them anywhere from every three to five months. But more often than not, drivers have no idea what's happening behind the scenes while they're getting their vehicle serviced. So what, exactly, are we at Plaza Lincoln doing to your car while you wait to drive away with a car full of clean oil?!
Oil Change Basics
All vehicles use different kinds of oil. Knowing the year, make, and model of your vehicle is crucial to knowing what kind of oil to use. If we can't figure it out immediately, it's always listed in the owner's manual.
First, some basics: you should be replacing your oil filter every time you change your oil to prevent it from getting gummed up. Aside from that, use a pan, some gloves, and the proper kind of oil as prescribed by your owner's manual. Most people who change oil themselves will use a jack, but most auto garages these days just lift the car up on stands to keep it sturdier. Technicians will then drain the oil by removing the oil cap both underneath the car and under the hood (we do this to prevent creating a vacuum, to allow the oil to flow more freely). While the oil is draining, our technicians swap out the old oil filter for a new one.
Oil Change Steps
Once you have the pan situated underneath the car, use a wrench to screw off the oil plug underneath the vehicle. From there, just allow the oil to drain. While you're waiting for the oil to flow out, get into the engine to change the oil filter. Once that's done and your oil slows to a trickle, all you have to do is replace the gasket, put the plug back in, and then add the brand-new oil to your engine.
Oil Change Hints
Before you drain the oil, run the car for five minutes to warm it up. This will make the oil flow better.
If the engine is hot, then wait thirty minutes to prevent burning yourself.
You should jack up your car and use jack stands to keep it steady.
Don't use a wrench to tighten the oil filter; using your hands should be enough.
Dispose of the oil by searching for an oil recycling center near you.
Of course, not everybody wants to get their hands dirty. That's why we have a team of capable service technicians on staff here at Plaza Lincoln. So if you need an oil change, don't hesitate to come our way.